Top 5 Bathroom Remodel Mistakes
July 30, 2019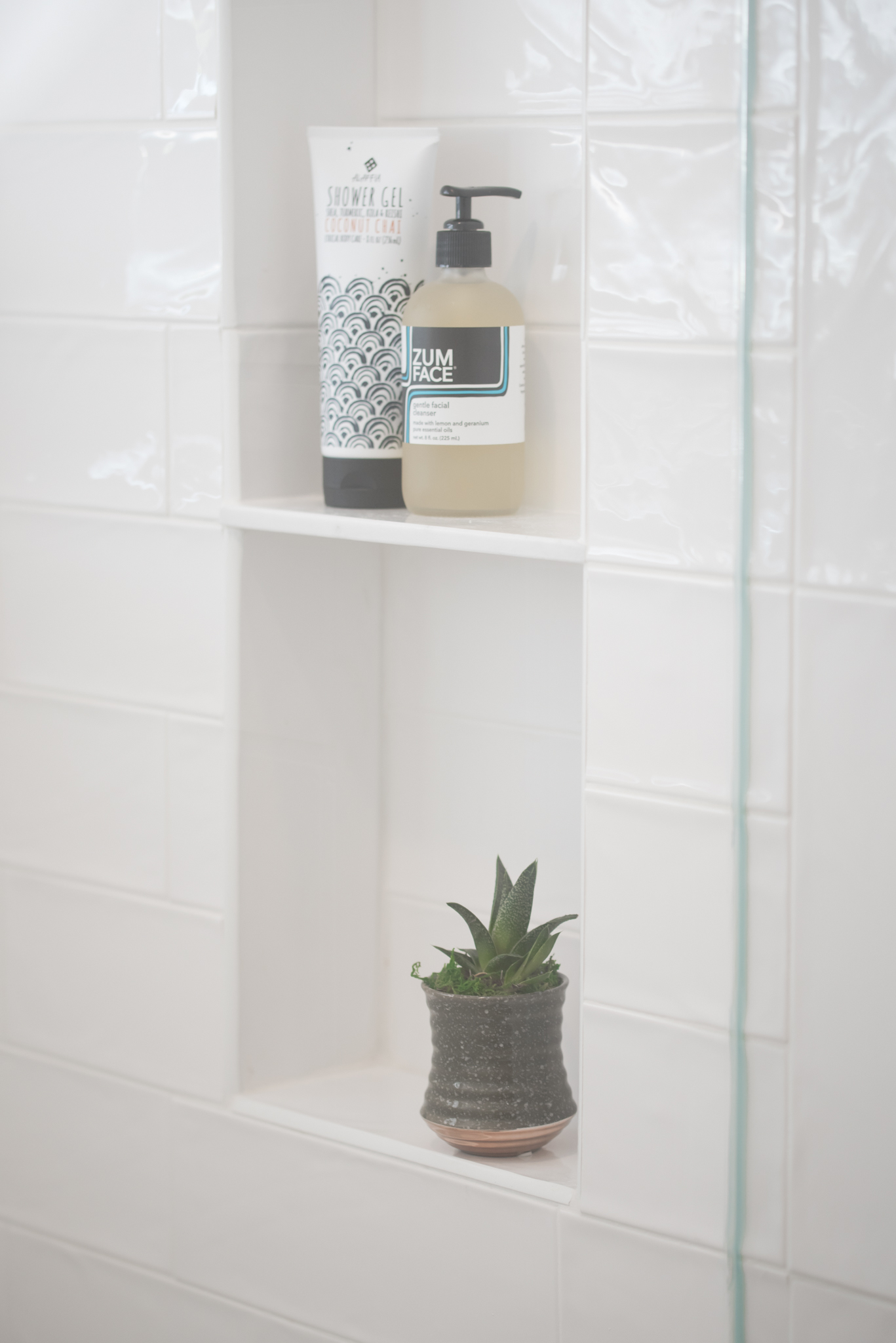 Remodeling a space in your home can be exciting! I bet you can't wait to tackle that master bath project! "It's been a looong time coming," you think as you walk past your bathroom for the hundredth time, wondering who picked that hideous tile and biscuit colored toilet (I mean, just the name should be a warning) … But before the fun can begin, (and by fun I mean a lot of contractors coming and going every day for weeks) — having a plan is KEY !I After remodeling my fair share of client spaces including a ton of bathrooms, these are the top 5 less-than-stellar ideas that frequently haunt the bathroom.
Shower head too low, Bonk!

—

From the start, you need to pick out your plumbing trim and valve-placement for the shower wall!  If you leave it up to your plumber to determine the placement, you might be sorry. I would make sure the tallest family member can comfortably use the shower. Somewhere between 84- 88″ high on the wall is a good average. Different shower head styles require different heights, always be sure to consider this.
Same old shower footprint

—

If you can swing it, go for the larger shower. Sometimes simply increasing the footprint of the shower by a foot on one side can be a game-changer.
Wrong type of tile

—

Meaning, crackle finish tile is not suitable for your shower, and some hand painted tiles shouldn't be used on the shower floor As there are a million different tiles out there, please be sure to check the manufacturers guidelines for application! If slip resistance is your main concern (for young children or elderly) then grout lines are your friend! Think 2″ hex on the shower floor, medium format size tile for walls and larger format tile for floor, statement tile in picture frame, vanity backs plash,or niche.
Wrong grout color  — By wrong I mean not ideal, and color choices can be limited by The grout color will MOST of the time look the best when matched as close as possible to the background color of the tile. If it's a white tile with blue pattern, use white grout. If it's a black tile with white pattern, use black grout. If it's a marble tile things get tricky I love a good challenge and marble is always great for throwing a curveball! I have used light to medium gray colors most often, and only white for the very whitest stones. A great budget friendly way to add an interesting design feature is to install a basic field tile in an interesting pattern (herringbone, chevron, etc.) and use a contrasting grout for pop! Please no glitter grout though!
Not enough Storage — I'm a little obsessed with shower niches. I want everything to have a place and be streamlined. Shower caddies overstuffed with bottles and soaps, and suffocated windowsills stress me out. Studs in the way? Move them! Really any size will work, 12″x 12″,18″x 36″ or even a linear 60″x 12″! If none of the walls are ideal for a niche, consider a marble shelf in the corner or a tiled bench across one side. Just make sure to measure if you have those Costco bottles!